Winding River Plantation - The Total Package
By Bryan Hunter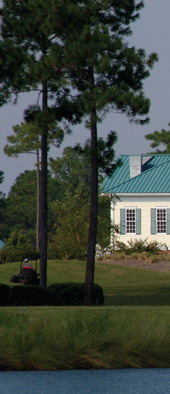 You know it's a good sign when a realtor lives in the neighborhood where she has numerous listings, but ask realtor Rene Hunter and she'll quickly explain why she chose to call Winding River Plantation home.
"There are communities in the area that offer golf, tennis courts, riverfront living with deepwater access, storage corrals for boats or R.V.s, or a community pool, but not all of these amenities. Winding River offers them all," Rene says. An owner-broker for Coastal Carolina Lifestyle, Inc., Rene admits that it makes her job easier showing a house in Winding River when she's able to tell them, "Here you've got it all."
In 1997, ground was broken and the infrastructure began being installed. Today, all roads and utilities are in place and fully functioning. "There's no more to do in terms of development," Rene says, but there are lots available. In the near future, however, Winding River will reach capacity at 1,050 houses, but one advantage of buying a lot now is that there is no time limit on building. With 30 lots currently for sale, buying a lot now is an attractive investment for those who want to lock into current rates and a highly desirable location-say for retirement-but don't want to incur the expense of building immediately. With a minimum building requirement of 1,600 to 1,800 square feet, being able to postpone building is an attractive benefit for many.
The predominant features of lots range among four categories: interior, nature preserve, golf course and riverfront. "Riverfront lots are the most expensive," explains Rene. "They start in the upper $500,000 range, while riverfront houses can be in the $1 million range."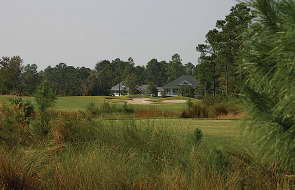 Golf course lots are probably the most popular, and although there are 27 Fred Couples-designed championship holes, popularity means lot availability is relatively low. As for the game itself, one of the most compelling features of Winding River is that the homeowners' association fee provides discounts on greens fees, as well as free use of the day marina and its River House, the Beach Club at Holden Beach, and the association pool and club house, not to mention the security of living within a gated community. "In a lot of communities like this across the country, there are separate fees for each activity, but here you pay the homeowners' association fee and that's it. Bluegreen maintains the course, so there are no separate course-maintenance fees for those who choose a club membership," Rene says. Club memberships entail an annual fee that provides unlimited golf throughout the year.
Although Winding River is a waterfront community with easy access to the Intracoastal Waterway and the Atlantic Ocean, it is situated on high ground, so risk of flooding is minimal.
Another feature of Winding River that appeals to those not wanting the uniformity of a thematic development is that there is no established architectural style. In fact, Winding River doesn't even have preferred architects, so the neighborhood has a real organic feeling of architectural evolution. All homes are custom designed and built, though, so they all lend a solid sense of permanence. "Future residents use their own architects," Rene says, so they wind up getting what they want rather than something imposed by a developer's vision. Instead, an architectural review board maintains quality and aesthetics, helping preserve property value in the community.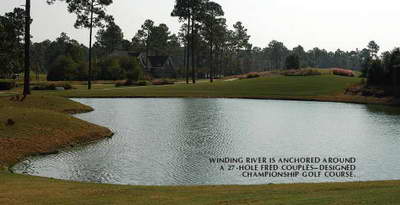 If a future resident wants a custom house without dealing with the potential headache of building, though, there are usually a number of spec houses complete or nearing completion. "Right now there are around 12 to 15 spec houses on the market, and there is usually a good mix of resale and spec houses," Rene says.
Despite the fact that Winding River is private and dreamily secluded, it is not totally isolated from urban conveniences. The towns of Southport and Shallotte are conveniently close for many shopping needs, with Wilmington and Myrtle Beach only a short drive away for all the dining, shopping and cultural amenities available in a larger city.
But one caveat: if find yourself fortunate enough to become a resident of Winding River Plantation, you may find it hard to leave.