St. James Plantation, Near Southport, NC
A Coastal Carolina Hot-Seller
Five miles west of the historic port town of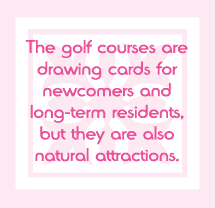 Southport, N.C., on Highway 211, town and country have marvelously grown together in a paradise of natural beauty and neighborliness.
Call it St. James, N.C., or call it St. James Plantation. It's the same either way: a well-planned but homey development that began in 1991 on 3,300 acres. And now that the first, ever-expanding phase of St. James is 95 percent sold, an upscale segment called The Reserve is being opened within the town's gated limits.
St. James is known as the No. 1 selling development in the Coastal Carolinas. It's also known for its Intracoastal Waterway, stream and lake views, its three ­ soon to be four ­ clubhouses and its well-planned golf courses, designed by golf legends Jack Nicklaus, Hale Irwin, P.B. Dye and North Carolina's Tim Cate.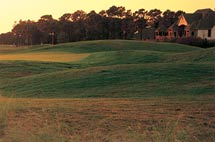 A pleasing community, already incorporated with its own government as well as a property owners association and neighborhoods that work well together, has arisen from this area's first major residential and golf community. Vice President Daniel M. Shiels was asked about sales of home sites in the decade since the community was born. He could not come up with a figure without consulting his sales reports in his desk drawer files.
"I'd have never believed it," he said after running the statistics on his calculator twice. "I'd have probably said it was about $80 million or something like that. But it's well over $330 million, for the land mostly, not for the homes themselves."
And that is in the community's first decade, with more to come. There are few restrictions on the homes in the community, Shiels and Marketing Director Rebecca Grogan said. Models' are not offered, so those who purchase sites at St. James Plantation decide on the design of their own homes. Children flourish, as do retirees and empty nesters,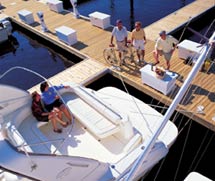 and they all mingle well together.
Shiels said the sale of sites in The Reserve has taken off this year, after plans for a Jack Nicklaus 18-hole golf course were announced. Sales were not exactly booming last year, Shiels said. However, the developer changed marketing firms and renovated parts of its office across from the Highway 211 main gate, boosting the morale of the staff and helping to invigorate sales.
Since April 2002, but mostly this year, St. James Plantation has sold $11 million in home sites. What makes this an eye-opening figure is that these sites are priced between $125,000 and $260,000, with homes expected to cost from $850,000 to "well over $1 million," Shiels said.
Throughout St. James, parks and trails offer play areas, recreation such as boating, bicycling, walking and tennis and social festivities for the active adults the community attracts. But this is not an adult-only community. It is home to more than 30 children, Shiels and Grogan said. Singles as well as couples live in the area.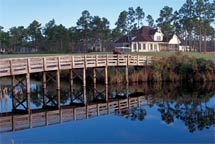 Grogan pointed out how impressed she was with how the residents have come together to help each other in sicknesses and emergencies and how the several neighborhoods in the community have cooperated socially and civically. She said St. James seems to be a community that has always existed.
The golf courses are drawing cards for newcomers and long-term residents, but they are also natural attractions. While Nicklaus, Irwin, Dye and Tate are the neon names on the course designs, it's obvious that Mother Nature is in charge.
The three operating semi-private courses are certified as Audubon Cooperative Sanctuaries, a third of all the environmentally-certified courses in North Carolina. And the community offers newcomers a botany course by labeling with signage the various species of indigenous trees, shrubs and vines along St. James Drive.
Grogan says the warmth of St. James is that it "offers a lifestyle, and that lifestyle is a sense of community." It's a place to call home, be it town or country.