South Harbour Village, Near Oak Island, NC
South Harbour Village Offers A Variety Of Coastal Lifestyles
By Jerry C. Ausband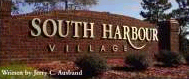 What might you say if you were offered a lot for sale that lies on soaring hills overlooking a placid lake ... a place where no one can build in front of you?
Just say it quickly, "I'll take it."
But what if the local city government is building parks between this lot on Charleston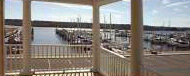 Ridge in the Westport section of South Harbour Village and the state-owned canal that leads to the Intracoastal Waterway? It's as if homes have front yards that reach all the way to the water, with no possibility of anyone else ever building in front of you. Your water view is assured.
Can it get any better than this?
Located on the Intracoastal Waterway, just off the road to the Oak Island beaches and across from Brunswick County's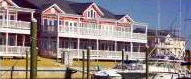 general aviation airport, you can find an eclectic mix of homes throughout South Harbour Village, where developer Ed Burnett continues to build. Burnett set aside property for a Montessori School and a community church, and then invited the local yacht club and their sailing school to dock at the South Harbour Village Marina. "I just wanted it to be like family, says Burnett, who is considered a wonderful person to work for, and is noted for walking around barefooted in casual clothing when he is not pursuing his latest goal, flying. Burnett has assured that a variety of homes are offered so residents can enjoy their own choices in the southwest breezes that prevail and the always entrancing sunsets.
Instead of the Charleston Ridge, how about Barnes' Bluff, large, gated estate lots, where you can even have your own private dock on the Waterway? Or take a look at the Marina Condos built around the waterfront commercial or the Golf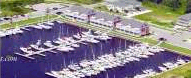 Course Town Homes and Single Family homes built around the Golf Course. You can live at the marina. Or you can sail or motor your boat into the marina and get your land legs in your home located nearby. Or you could stock up at the Village Market and Deli and eat on board while the boat traffic passes you by. Or you can eat scrumptious dishes at Joseph's Italian Bistro or at the end of the dock at South Harbour Fish Company Restaurant.
At South Harbour Village, you can buy real estate or buy a boat. Other enterprises, such as boutiques and specialty shops, are on the way as well. Visitors and residents can play tennis, swim in the clubhouse pool or play on a Par 3 Executive Golf Course that attracts many walking golfers who also get their exercise there.
You can even be married in South Harbour Village at the Village Chapel by the Rev. Ken Baker and then spend a honeymoon night at the Inn at South Harbour located on the marina. The Inn is poshly appointed and even has a two bedroom suite. But it is the overall effect that really matters at South Harbour Village.
You can live in a village setting in the marina area. You can live on a hill or two away from the hustle and bustle. You can live on the executive golf course, and you can live in a variety of homes. Or you can be anything except a landlubber if you choose the waterway life alongside the Intracoastal Waterway where sunsets paint their own canvasses.
There is history and change, too. The way into the marina is called the Fish Factory Road. Don't fear. The name refers to a menhaden fish factory that used to process the fish caught from World War II-converted mine sweepers into commercial products, including fish oil. But they stand unoccupied these days, and their smell has long disappeared. The streets in South Harbour are named for the old menhaden boats.
The change is from the rural setting of Brunswick County to a more modern, but nonetheless private and comfortable, setting. For instance, the marina is home to the longest recreational pier in North Carolina. A large, modern dry dock storage building is available nearby.
South Harbour Village is the home of Lawrence Sales and Marketing, Coastal Real Estate, which markets the development for Burnett. Nearby is the Oak Island Airport that is run by Brunswick County for general aviation, and only a few meters away is Southport itself, with its antique shops and its waterfront restaurants and boutiques.
Never mind traveling when you can be at home in a little piece of Coastal Carolina paradise.