Seagrove at Carolina Beach: A Return to the Past
Kate Lino
Aah, the good old days - when you knew and spoke with your neighbors, when people sat on their front porch and waved to those passing by and when a leisurely stroll after supper was not out of the ordinary.
Seagrove, the only new single-family development in Carolina Beach, North Carolina, hopes to bring back those reminiscences of yesteryear with a pedestrian-friendly community of cottage-style beach homes.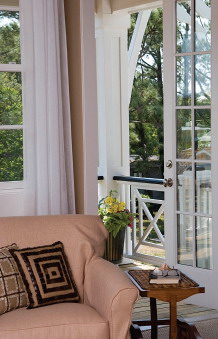 "Seagrove is different than anything built here," says Carol Hobbs, director of sales and marketing for Intracoastal New Homes. "It's about creating the charm and ambience of older seaside villages. Alleyways allow all parking and garages (which are optional) in the back of each home. This adds to the pedestrian-friendliness of the neighborhood by removing the traffic from the streets. The porches and sidewalks encourage a more interactive neighborhood. And the coastal architecture is truly unique to the island."
Encompassing a nearly six-block area, Seagrove is located a half mile from the beach, off of Ocean Boulevard. When complete, the planned community will consist of 105 homes nestled amid lush surroundings, with protected conservation areas throughout the perimeter.
Each home sits on a 50-foot by 100-foot lot and is between 2,000 and 3,100 square feet. Architectural plans must be approved by the Design Board, ensuring that the integrity of Seagrove's original community plan is maintained. For example, all homes must have at least nine-foot ceilings on the first floor and at least two porches facing the street.
Seagrove's perks include more than just a community of neighbors. Residents will receive a street-legal golf cart so they can zip around the neighborhood or to the nearby beach access at the Golden Sands Hotel. The development also features a beautifully designed tropical pool and a fully furnished clubhouse, complete with a kitchen.
Much thought and planning has been put into the environmentally friendly landscaping, which is limited to native plants and natural materials to blend in with the maritime environment. To reduce maintenance and the need for watering, no sod is allowed. The developers wanted to maintain the feel of the protected conservation area that borders the eastern perimeter of the development.
No detail has been spared in the interior design of the homes, either. Extensive crown molding, exposed rafters and coffered ceilings are just a few of the extras that set the homes apart from those in other developments. All homes feature galvanized metal roofs, working shutters and eight-foot porches; some even boast third-floor towers with expansive roof-top views of the surrounding coastal area.
It took two years to develop the concept that defines Seagrove, and project developers traveled to communities in Florida such as Seaside and WaterColor for inspiration.
According to Jimmy Hopkins, the on-site sales manager, there has already been a growing interest in Seagrove from people in the Washington, D.C., area who are looking for vacation homes but are unwilling to fight traffic and pay much higher prices for property near the Maryland and Delaware coasts. The easy drive south and good value make Seagrove a viable alternative for them.
"The prices are reasonable compared to the beaches near D.C., and you don't have to fly to get here," Hopkins says.
Sites are available for those wishing to custom-build their dream home, and there currently are nine homes in Seagrove in various stages of completion, two of them already under contract. Prices range from the mid $600s to the high $800s.
Eight of the area's best builders are available to help make your dreams come true in Seagrove, including Whitney Blair, Inc.; Coastline Construction; Wrangell Homes, Inc.; Sea Spray Construction; Murdock Building & Design, Inc.; Tony Ivey Construction; Samm B. Inc.; and Windjammer Properties, LLC.