River Station in New Bern, NC
By Kristy Flynn
Over the past century, the city fathers of New Bern, North Carolina, have always considered preserving the past and melding it with the present and future to be important to the well-being of their town. More recently, Hubert G. Tolson III and R. Edwin Coleman Jr. of UHF Development Group, LLC, have honed their skills in restoring historic properties and planning new communities within them in locations across the Southeastern United States.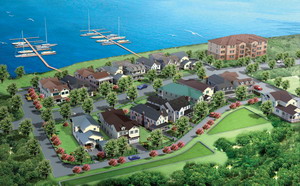 One of their most recent projects is River Station of New Bern. Located on East Front Street and along the mile-wide Neuse River, River Station is downtown New Bern's first modern, single-family, riverfront neighborhood. The idea is to expand along the Neuse's waterfront, preserve the historic downtown area and flawlessly blend the past with the future. Once complete, River Station will consist of 17 homes, eight of them waterfront and the other nine located on the street behind. All home sites will have water access and magnificent water views.
Each home will be carefully designed to blend with the surrounding 18th century houses. While exteriors will appear to date from an earlier time, interiors will be built with state-of-the-art features. Every home will have an open floor plan, front and rear access and will include energy-efficient windows, insulation and appliances. Internet and cable-ready connections will be strategically placed throughout.
The community will include a marina for homeowners to enjoy, with boat slips available for easy access to the Neuse River. The streets of the community will be enhanced with sidewalks, curbing and greenery, and utilities will be underground. The New Bern River Walk will extend through the community, connecting it to downtown shops, restaurants and galleries.