Figure 8 Island: near Wrightsville Beach and Wilmington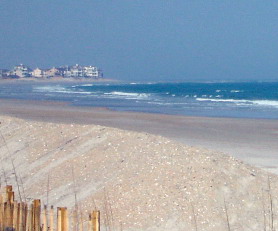 Seclusion, privacy and natural beauty are prerequisites for many vacationhome buyers seeking a peaceful escape from their hurried lives. Finding such a paradise seems like no more than a fantasy for many, yet for North Carolinians and astute out-of-state sojourners, the dream is real and doesn't require a passport or, in many cases, even a full-day's travel.
Indeed, it is just a bridge away from Wilmington. Located about 15 miles northeast of downtown Wilmington off of Highway 17 North, Figure Eight Island is a five mile, 1,300-acre ocean-front community accessible only by a private bridge.
"You cross that bridge, and you feel you've crossed into another world," says Vance Young of Intracoastal Realty, who specializes in properties on the island. "Figure Eight Island is a complete package. There is unparalleled beauty. It is tranquil, yet everything is so close by."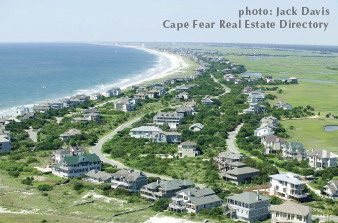 Accessibility to the island is a key factor for many homeowners. Figure Eight Island is near major highways, including Martin Luther King Jr. Parkway, as well as Wilmington International Airport and other commercial and private airports. With the completion of Interstate 140 - the Wilmington Outer Loop - the drive to and from Raleigh will be even easier.
According to the book "Figure Eight Revisited," by Nola Nadeau, the island was once known as Woods Beach or Foy Island. Part of the Foy family's Poplar Grove Plantation for 160 years, the island was purchased in 1965 by former Wilmington Mayor and businessman Dan Cameron and his brother, Bruce Cameron, who began developing the undiscovered gem. They paid $100,000 for the property - today a single home on the island will sell for several million dollars.
The majority of the island's residents live there seasonally. Young estimates that 90 percent of the homes on Figure Eight Island are second homes and that fewer than 100 of the 470 homes are on the rental market. Only 50 to 60 owners make the island home year-round.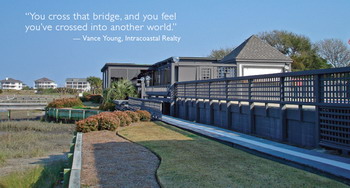 Bill and Emily Andrews of Raleigh bought their home on Figure Eight Island two-and-a-half years ago. They rent it out during the summer and use it as a weekend escape during the off-season. "We were attracted because of the remoteness. We like the slower pace, the security and the convenience of a nice restaurant, boating facilities and the pool," says Bill Andrews, an asset manager for a private family who is retired from the insurance industry. "It offers our grandchildren a fun environment."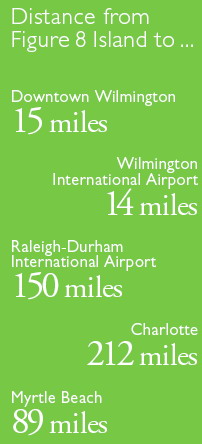 The community boasts amenities such as a marina, tennis courts, a boat ramp and the Figure Eight Island Yacht Club, which provides dining, a pool and a harbor for resident members. "There is a wonderful sense of community on the island," says Young, pointing out that each year, island residents celebrate the Fourth of July with a traditional picnic, parade and fireworks. Throughout the summer, the community offers outings and activities for its island inhabitants.
After renting vacation homes on the island for four years, Charlotte resident Jim Shuford, an executive with Shurtape Technologies, LLC, purchased a house there two years ago. He and his wife have four children under the age of 9, and Figure Eight Island provides the youngsters with a safe haven to spend their summers. "I like it because it is private, which really cuts down on traffic and noise. It's not crazy on Saturdays. I live in a busy place; I don't want to vacation in a busy place," Shuford says.
Apart from the island's obvious natural beauty and other assets, buyers see the island as a solid economic investment. "From a business perspective, I have enjoyed the appreciation factor - the property values have really soared," says Andrews.
Another plus for island residents is that there are few undeveloped lots remaining, which means there is little new construction. "It's basically built out - there is no more real estate development, which means there is less dilution," says Shuford. "It is what it is. There are few surprises. No one's going to come in to build townhouses or condominiums." Investment and property value aside, Shuford says he doesn't plan to sell anytime soon. "I hope to give my house to the kids," he says. Will future generations of island dwellers have the same connection to the island?
Probably. The island's tranquility, natural beauty and solitude will continue to form a bridge that today's generations and those that follow will be more than happy to cross.