Ashe Island, North Topsail Beach, NC
By Sheree L. Alderman
Ashe Island is a secluded 520-acre tract of land that is more than just an alluring paradise. It's a state of mind that will elevate your soul when you close your eyes and listen to the soft ocean breeze chasing the call of the loon at dusk. A peaceful barrier island crowned with beautiful sunsets and breathtaking views, it carries a distinct picturesque vision of pristine charm. Ashe Island is located a mile south of North Shore Country Club and the high-rise bridge leading into North Topsail Beach, North Carolina.

The property lies east of the Atlantic Ocean and the view to the west overlooks the tranquil Intracoastal Waterway. With miles of sandy beaches, marsh creeks and acres of unsoiled beauty, the area offers appealing seclusion and excellent boating and fishing opportunities. Only 25 10-acre waterfront lots will be developed. Every parcel of land has a private entranceway and access to an ocean lot across the street for activities such as beachcombing, sunbathing, fishing and water sports. The remaining 250 acres of the island include common areas of trails, wildlife and Nature. There are three freshwater ponds and two lakes, all well-stocked. Paved streets provide miles of riding and walking trails.
Restrictions for owners are few. One house of at least 3,300 square feet and one detached guest house or garage are allowed per lot. To maintain the integrity of the island, all home design plans must be approved through the Ashe Island Farm Architectural Review Committee. One dock pier and a single boat landing per lot are encouraged. One of the current homes on the island, "Far Niente," meaning "without a care," is owned by Mr. and Mrs. Edward Drudge, who truly enjoy the serenity they have found. "There are so many reasons we came here," says Edward Drudge. "The first thing that attracted us was obviously the locale, being on North Topsail Beach, but probably more important is the fact that it is as close to a serene wildlife reserve as you can find in this part of the country." The common area of the property has remained in its natural environment, unhampered by development and construction, which is appealing not only to owners but to wildlife as well. "We see everything from deer and fox to eagles, osprey and even alligators.
We have seen all kinds of birds from egrets to great white herons. It's just a very serene place to live. It's incredibly quiet," says Drudge. Bathed in history, the property is named for the Ashe family, a prominent and powerful clan dating back to John Baptista Ashe, a member of the Council of State and speaker of the House. His wife, Elizabeth Swann Ashe, wrote, "Yellow Jacket," the first book ever published in North Carolina. Their son, General John Ashe, was named one of six brigadier generals in 1776, while another son, Samuel, became governor, serving three one-year terms beginning in 1795. During World War II, the United States liberty ship, SS Samuel Ashe, was named in his honor. He died in Rocky Point, North Carolina, where there remains a well-marked grave on his plantation, "The Neck." Future kinsmen proved to be as worthy as their forefathers in politics and military service; the family produced war heroes, a U.S. congressman, a senator and a royal governor.
According to former trustee, Attorney Marshall F. Dotson Jr. of Jacksonville, North Carolina, Ashe Island had been, for the most part, used for farming purposes, even as far back as the early 1700s. Produce such as blueberries, soybeans, corn and other truck crops were grown there for a century or more. Equipment, hired hands and horses where regularly shuttled to and from the island by boat. In the 1940s, Dr. Hunter Heath began acquiring parcels of land in the area and on Ashe Island, which he purchased from the Ashe estate. He leased some of the property for farming, which continued even after his death in 1989. Heath was in education, and he left half of the proceeds from Ashe Island to the University of North Carolina Medical Foundation and the remaining to an educational trust for his descendants.
After farming ended on Ashe Island in 1992, the land was divided into 10 acre-tracts to create a restrictive covenant on development. Bradley B. Minshew, a local real estate agent and owner of Pelican Properties, had been to the island and wanted to build his dream home there. He, too, had come under the captivating spell of Ashe Island. He not only bought a tract of land there but it was agreed that he would be the exclusive real estate contact for further sales of the Ashe Island property. By late 1999, Minshew bought the remaining unsold lots from the Hunter Heath Trust and became the developer of Ashe Island. "When Brad got involved, he felt the same way about it as we did," says Dotson. "He fell in love with the island and the way we were developing it.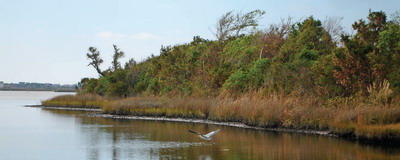 Since Brad built his house there and was so interested in it, we felt that he would be the best person to sell it to." Brad, and his wife, Nell, saw their dreams come true when they moved into their new home on Ashe Island. They soon became a large part of the development process of the estate. "It was my father's dream," says Teresa Minshew DeMarco, one of their two daughters, who fondly remembers her father's excitement and dedication to the project. Ashe Island remains in a unique and glorious state of natural beauty, wildlife and quiet atmosphere. It now provides a distinct and prestigious source of living for the discriminating owner.
There is no time limit for construction, so why not assure your place in this magnificent private island paradise by becoming a part of the Ashe Island community?