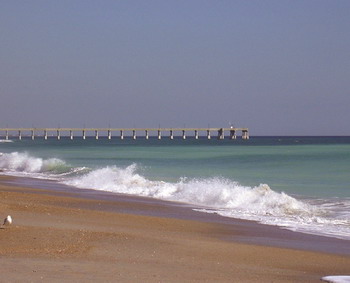 The Cape Fear Coast will forver be tied to it's centuries-old nautical legacy. Its rich heritage dates back to the early explorers who named the area Cape Fear for its rugged shoals and treacherous waters that even today give the saltiest of sea captains reason to pause.
Wrightsville Beach, one of two barrier islands in the mouth of the Cape Fear River, in unlike any other place in the world, a fact that brings considerable pride to its residents.
By the 1840's the island had become a vacation spot for the well-to-do of nearby Wilmington. Following the Civil War, Wrisghtsville Beach was one of the first island communities to incorporate. Shortly thereafter, rustic bridges were built to connect the island community to the mainland.
Today, Wrightsville Beach is a small but prosperous town that has found the right balance between preserving both its environment and its ambience. Though development has been steady, it has not been allowed to overwhelm the island.
"The Wrightsville Beach Museum of History has a fascinating collection of local artifacts."
Wrightsville Beach offers a multitude of recreational options. The clean and uncluttered five-mile white-sand beach is perfect for a day of lounging in the sun, collecting shells, swimming, surfing and fishing. Birders will enjoy hiking the North Carolina Birding Trail, which offers the opportunity to spot a large variety of water birds.
After a morning at the beach, residents and vistors alike can enjoy the Wrightsville Beach CIty Park, complete with lighted tennis courts, volleyball and basketball courts and soccer fields. A fitness trail circles the inner island.
The island is not short of culture either. The Wrightsville Beach Museum of History has a fascinating collection of local artifacts, including pirate treasure. Riverboat cruises on the Intracoastal Waterway are another favorite activity, providing a glimpse into the area's history.
Neighboring Wilmington, only a short drive away, provides many of the big-city amenities the island lacks. National retail and restaurant chains, as well as high-quiality health care are also nearby.
With its pristine beaches, beautiful blue waters and soothing ocean breezes, Wrightsville Beach offers a welcome respite from Wilmington's faster pace.