Carolina Beach, North Carolina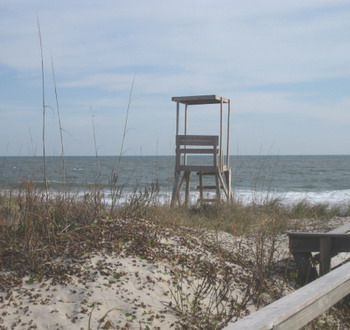 The word is out and the verdict is in-small-town charm and warm ocean breezes make Carolina Beach a great place to spend the best years of your life.
Crossing the Snow's Cut Bridge from Wilmington to Pleasure Island and its largest town, Carolina Beach, is a breath of fresh air as you leave the noise and traffic of the city for the serenity of a Southern coastal hideaway. Located just south of Wilmington, Carolina Beach, with a population of less than 5,400 full-time residents, retains its beach-village heart with a plethora of family-owned restaurants and businesses that care more about customer service than corporate stature.
"... small-town charm and warm ocean breezes make Carolina Beach a great place to spend the best years of your life."
Carolina Beach is a welcome relief for those who have had their fill of shoveling snow. Moderated by the warm breezes of the Atlantic Ocean and with around 212 sunny days a year, Carolina Beach offers average temperatures ranging from a low of 45 degrees in January to a high of 80 degrees in July. Year-round, you can enjoy miles of white sand beaches and outdoor activities such as boating from the large marina in the heart of town or in the sprawling Cape Fear River. Other favorite activities include fishing, kayaking, tennis, miniature golf or just strolling along the quaint boardwalk, taking in the sights and sounds that have enchanted residents and guests for more than a century. The pleasant evenings also lend themselves to live music and dancing at the outdoor restaurants as well as moonlit strolls along the ocean.
Just over the bridge from the island lies the city of Wilmington, offering shopping, golf and the amenities of a large city. The Wilmington International Airport is 16 miles away and offers connecting flights to anywhere in the country through Charlotte and Atlanta, as well as direct flights to Philadelphia and New York. The state-of-the-art New Hanover County Regional Medical Center is approximately 12 miles away.
Whether you're attracted by moderate temperatures, bountiful sunshine or an affordable cost of living-or all three-you'll agree that Carolina Beach is the perfect place to spend the rest of your life.