Carolina Coastal Interiors, Wilmington, NC
By Patra Bucher
Everything You Need to Make a House a Home Available
Turning an empty room, or a whole houseful of empty rooms for that matter, into an inviting, livable home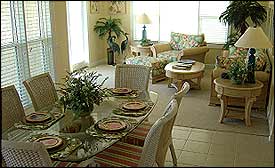 is often a long, arduous process that can take weeks and even months of hard work. Not anymore.
In December 2000, Wade Sutton and Ray Nenow opened Carolina Coastal Interiors, bringing together under one roof everything owners need to furnish and decorate their condos and homes. The success of the business has been remarkable, to say the least. "We've almost doubled in sales every year since 2000, when we opened," states Nenow, a partner in the company. "If we have any problems, it's keeping up with the growth."
According to Nenow, the company focuses on providing total packages for both condos and homes.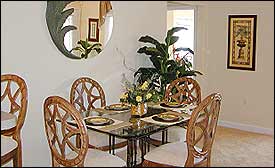 Carolina Coastal Interiors offers condo and beach packages starting at just $7,995. With many different motifs to choose from including beach, golf, tropical and cottage, clients choose from a sea of colors to suit any taste.
They also have designer packages for new homes. "We sell major brand names at that level including Lexington, Stanley, Hooker, Simons, Riverside, Benchcraft and many more," states Nenow. "Those are pretty potent names."
"In essence, after you buy your condo or home, all you have to furnish is your toothbrush," explains Nenow.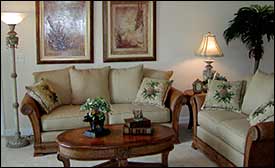 "Everything else is included. We'll hang pictures. We'll do the housewares. We'll coordinate colors and wallpaper. We'll do all the window treatments. We'll do the designer accessories. We'll do it all."
Doing it all is actually an understatement. Carolina Coastal Interiors even offers custom framing and custom florals. "That gives us a little bit better product because we do it all in-house," continues Nenow. "A lot of people buy their own pictures. Because we do our own framing, we can give them a little better quality for the same amount of money. The same applies to florals."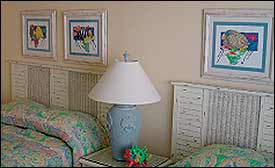 Lahna Sutton, Carolina Coastal Interiors' own condo furnishing specialist, heads the interior design services department. "I have experience furnishing and decorating the Grand Strand regional market condos and homes," she says. "This includes Barefoot Resort, Keyes Communities, Sea Trail and Crow Creek, to name just a few. Our clients always receive personal attention from me and my staff."
"A client can pay a whole lot more if they hire a designer," notes Nenow. "Here they get a talented designer as part of their package."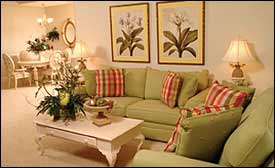 Nenow adds, "Our store is unique in the way it presents itself. It's very focused on accessories so people who just want to accessorize their homes can come in as well. We'll sell one piece, or we'll sell a whole houseful."
Carolina Coastal Interiors has two convenient store locations to serve the East Coast. In North Myrtle Beach, S.C. the store is located at 2109 Hwy. 17 South, or call (843) 272-5877. In Wilmington, N.C., the store is located at 3405 Market St. or call (910) 763-0905. Or visit the company on-line at www.carolinacoastalinteriors.com.