BC Stone - Return to The Stone Age
By Chad Slate
Once designed to be functional rather than beautiful, kitchens and bathrooms have emerged to play an integral role in the overall value and appearance of today's modern home. Few aspects of a house have the potential to impress people more, according to Frank Fernandez, president of BC Stone.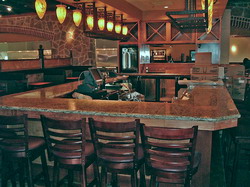 "The kitchen has become the center of entertainment and conversation in the home," he says.
From the beauty and durability of granite counter tops to the luxury of a marble bath, stone can change the look and feel of a home. It also makes financial sense; research shows that upgrading counter tops to stone can add up to 150 percent of the cost of the work to the value of a home.
In the kitchen, natural stone is not only a stylish upgrade but a durable addition that will continue to look new for decades. Once your natural stone is installed, you no longer have to worry about a teen-age fledgling chef gouging the counter tops while dicing an onion, a pint-sized Picasso doodling off the page or permanently discoloring your kitchen because a pan was too hot to handle.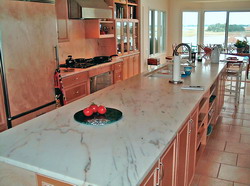 Granite and marble counter tops suit vanities as well as kitchen counters, while marble has provided the ultimate in bathing relaxation since the days of ancient Rome. The continuity of flowing the same stone from the kitchen to the bathrooms is unmistakable, as is the elegance of moving from one stone to another to create an independent aura in each room. With either look, the tedium of laminate counter tops and fiberglass tubs and showers is gone forever.
"I would like to see more people in this area experimenting with stone," Fernandez says. "In our other market in the D.C. area, we are using exotic stones such as onyx, which is translucent, for vanities. Back lighting shows the veins in the stone. It looks amazing. There are so many amazing things we can do at BC Stone. In Wilmington, we are just scratching the surface."