Islander Villas, Ocean Isle Beach, NC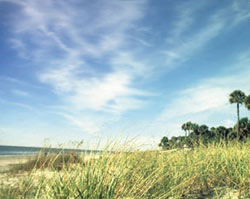 Ocean Isle Beach, N.C., home to eight miles of wide, pristine sugar sand beaches, windswept marshlands and seemingly endless recreational opportunities, is also home to the prestigious Islander Villas, the perfect setting for a family retreat.
Located on the Islander Resort on the island's exclusive west end, the Islander Villas offer spectacular ocean and marsh views, especially from the large living room windows and the huge exterior decks. The four-bedroom, fourth-bath, 1,700-square-foot units are equipped with a unique "lockout" systems that permit owners to use them for their personal enjoyment or to rent them to others.
Each three-story building features two villas per floor, served by a common elevator. The units are attractively decorated, with nine-foot ceilings throughout, a whirlpool bathtub in the master bathroom and lots of extras, including top-of-the-line appliances.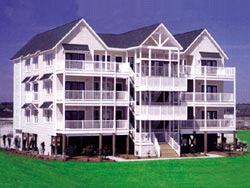 Within The Islander Resort is The Islander Beach Club, designed by North Carolina's renowned architect John W. Thompson and offering swimming facilities and elegant dining. At the four-star Isles Restaurant, members and guests can experience family style to gourmet dining overlooking the Atlantic Ocean.
On Ocean Isle Beach, you can take in the beautiful natural surroundings while sunning or strolling on the beach looking for shells, enjoying the surf or the glorious sunsets or simply watching the pelicans and seagulls drift by. For those who prefer activity over relaxation, kayaking, bicycling, surfing and scuba diving are all possibilities. Or you can fish the surf, pier and waterway or, a short distance offshore, you can go after world class catches of king fish, bill fish, red snapper, grouper, mahi mahi and tuna. In the creeks and along the waterway, you can collect oysters, clams, fresh shrimp, blue crabs and stone crabs. And if golf is your game, there are 36 world class courses within 15 minutes of Ocean Isle Beach.