Kendall Canady Builders, Ocean Isle Beach, NC
Kate Lino
The Construction of Jerry Wickersham's new home Brunswick County, North Carolina, was an unforgettable event.
"The experience was a 10 out of 10," he raves, crediting the project's success to his builder, Kendall Canady.
Perfect ratings are hard to come by, so when your clients give you such high accolades, people probably will start to take notice. For the owner of Kendall Canady Builders in Ocean Isle Beach, the praise is welcome but not surprising, considering the foundation on which his business is built.
The company specializes in highend, custom plantation-style and beach homes that generally range from $500,000 to $750,000 and up. Most Kendall Canady homes have been built in Brunswick County in the Ocean Ridge Plantation development and on Holden Beach and Ocean Isle Beach.
Canady started framing houses when he was 16 and worked his way up during more than 20 years in the construction industry.
"Kendall knows the business from the ground up," says Joan Ackerman, office manager and construction coordinator for the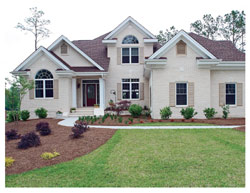 company. "He is very hands-on, and he has exceptional integrity."
Homes include top-of-the-line interior trim features such as rounded corners and exquisite chair railing and crown molding. Canady's attention to detail is part of what makes his homes special.
"He will not bring the standards down to meet someone's budget," Ackerman says. "He will tell clients, 'You need to pay a little more to get the quality you want.'"
Canady builds about 15 to 20 homes per year, rarely, according to Ackerman, from a stock plan.
Wickersham and his wife, Kathleen, moved into their new home in May of this year. Transplants from Green Township in northwestern New Jersey, the Wickershams were thoroughly pleased with the entire building process.
"We interviewed several builders," Jerry Wickersham explains. "We were looking for a quality custom home. When we met Kendall, we immediately had a good rapport with him. He is just a true gentleman."
The quality of Canady's work, coupled with his sincerity and professionalism, made quite an impact on the Wickershams.
"One thing that impressed me was how professional the whole operation is, right down to the trucks the workers drive," he says.
The Wickershams have adapted well to North Carolina and are enjoying their new home.
"I love the house and the view. The house is quality inside and outside. It was an all-around great experience from start to finish," Wickersham says.
Prospective clients will soon be able to view one of Canady's completed homes in Ocean Ridge Plantation in Brunswick County. It will be showcased in the Parade of Homes in October.