Coastal Lifestyle Development - Holden Beach, NC
By Barbara Millen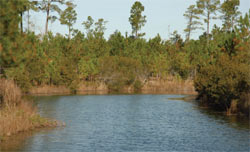 As a young boy, Cameron Smith, chief executive officer of Coastal Lifestyle Development and the developer of Stanbury Creek at Holden Beach in North Carolina, spent his summers on the water and at the beaches of the Carolina coast. As an adult, he reached the realization that, like himself, many people consider this stretch of the coast to be "a little piece of heaven."
Close your eyes and imagine the Carolina sun warming your face, the coastal breeze cooling your skin and the sounds of nature soothing your ears, and you'll understand the magic of Stanbury Creek.
"When I first stepped foot on this property, I knew it was different. The rolling hills, abundance of hardwood trees, crystal clear lakes and tranquil nature setting make this the perfect place to call home," says Cameron.
Situated on 88 acres, Stanbury Creek blends so beautifully with its surroundings that you might feel like you are living in a nature preserve. Pedestrian-friendly streets, quaint parks, sidewalks and peaceful nature trails only add to the illusion. Care has been taken to include pocket parks and to preserve the wooded areas.
In this natural wonder there are a variety of options, including wooded and rear-access homesites in The Villages, as well as lakefront and marsh-front sites. Coastal cottage is the style, but the architectural themes allow for Carolinaindividuality throughout the community.
No amenity is better than the natural surroundings of Stanbury Creek, and care has been taken to assure that parks and green spaces will always be part of the community. There is an abundance of on-site amenities for the active lifestyle of people of any age, including three lakes, passive and active parks, a canoe launch and a neighborhood amenities center that will include creature comforts such as a fitness center, a resort-style pool and a beach area.
Life could hardly be more idyllic. Not only is Stanbury Creek a wonderful place to call home, it is chance to spend quality time with friends and family. It is a place where neighbors are friendly and that fabled Southern charm is an everyday event.
You might not ever want to leave Holden Beach and Stanbury Creek, but, if you yearn for city life, it is just 35 miles away in the charming seaside town of Wilmington, where fine restaurants, rousing nightspots and delightful boutiques mingle with historic sites. And 35 miles south is the world-famous Myrtle Beach Grand Strand, where there are entertainment venues such as the Dixie Stampede, House of Blues and Broadway at the Beach, a huge complex of shops, eateries and attractions. Adding to the excitement is the newly opened Hard Rock Park, a rock 'n' roll themed amusement park and concert arena.
But perhaps all that excitement can wait ... while you kick back and relax at Stanbury Creek. After all, it is your little piece of heaven.